By Christine Lampert, Architect, AIA, NCARB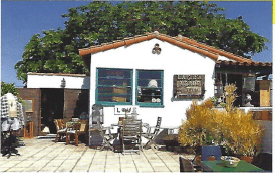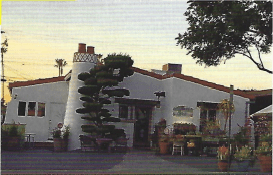 La Casa VerdeThe Abode on Avenida Del Mar
San Clemente in the 1920s was a town with over 1,000 Spanish Colonial Revival Style buildings. Today, there are only around 200 left standing. Many of them were demolished after World War 11 and into the 1980s to build new" modern" buildings. Most of the large condominium projects above the San Clemente Pier replaced beautiful historic homes.
Fortunately, the City finally recognized the importance of the historic structures in town and they are now protected as historic 'Ole Hanson' homes. Ole Hanson, who was one of the founding fathers of San Clemente, never actually designed these buildings but he was instrumental in writing the code that required every building to be built in the Spanish Colonial Style in the 1920s. This code was abandoned in the '30s during the Great Depression when Ole was forced to sell his properties to Bank of America in exchange for avoiding having to declare bankruptcy.
Today, there are homes in the downtown district that have found new lives as commercial buildings. One of these is the historic Cabrillo Playhouse, built in 1928 and once the home of the first city clerk. It is difficult to see how the original house was laid out because the theater needed to make changes to the interior, however, the exterior remains very much the same.
The Abode is a shop on Avenida Del Mar that remains almost the same as the original 1920s home. The interior spaces are the same, including the kitchen and the bathroom, and each room displays items that are appropriate to each space. The shop owners, Linda and Eric Mickelson, love to travel to find unique new and recycled items for their shop. Two interesting features of this house are the chimney that can be seen from the front of the building and the open beam ceilings inside. The garden in the back also displays wonderful outdoor items.
La Casa Verde, just a few blocks south of Avenida Del Mar on Avenida Granada, is another building that is almost exactly the same as it was in the 1920s. The owners, Ellen and Jim Bodas, are artists and recyclers who sell lovely restored older items including furniture, lamps, jewelry and more. The backyard is full of outdoor treasures for gardens.
Also on Avenida Granada are two other 1920s homes that have new uses today. Waterbabies Swim School, where many San Clemente children have learned to swim, now has a swimming pool in the backyard. Across the street is Fired Up. This historic house is very original on the outside while the inside has been opened up to provide a large enough space for guests to paint ceramics.
It is so important in a town like San Clemente that has such a wonderful collection of historic architecture to continue to find ways to preserve and maintain its history, even if the use of the original building changes.