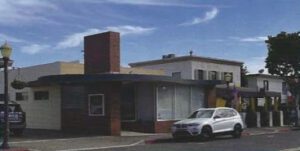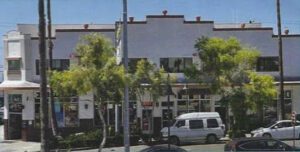 Art Deco and Mid-Century Modern architecture are two types of architecture that we don't hear much about in San Clemente since it is known for its historic Spanish Colonial Revival architecture. However, it turns out that beginning in the 1940s and all the way through the 1960s there was a Mid-Century Modern movement in San Clemente. These buildings were designed in a contemporary style, usually with low slope roofs and lots of glass. Prior to the Mid-Century Modern movement in the late 1930s and early 1940s a few Art Deco style buildings were built in town. 
The Art Deco style began in France in the early part of the 1900s. The style evolved and came to the United States in the 1920s and stayed until the middle of the 1940s. This style of design influenced not only architecture. but car and train design, as well as ocean liners and even radio and vacuum cleaner design. 
In San Clemente, there are a few examples of the Art Deco style buildings constructed in the 1940s right after the city stopped requiring all architecture to be built in the Spanish Colonial style. On the corner of South El Camino Real and Avenida Granada is a beautiful building that was carefully restored a few years ago to its original 1940s Art Deco style. Today, it houses Catalyst surf shop (at 124 S El Camino Real) and several eateries downstairs. and offices upstairs. 
One of the best examples of Art Deco style can be seen in San Juan Capistrano at 31866 Camino Capistrano. This building was designed and built in 1939 by an architect named Alexander Law for Dr. Paul Esslinger as a medical office building. This building has been on the National Register of Historic Buildings since 1988. 
Shortly after the Art Deco period of architecture, the next trend was Mid-Century Modern. which began as early as the 1930s but became very popular in the 1950s.
A few buildings on Avenida Del Mar might be considered a blend of Art Deco style and Mid-Century Modern, including the Surfer's Outlet by Jack's Surfboards at 176 Avenida Del Mar and the building at 241 Avenida Del Mar. 
San Clemente has a lot more Mid-Century Modern buildings. Many have been modified over the years, but a few iconic buildings remain, including Pedro's Tacos at 550 North El Camino Real and Conrad & Associates Realtors at 1000 South El Camino Real. 
One of the most prolific architects of Mid-Century architecture was Chris Abel, whose buildings can be seen scattered throughout San Clemente. Later, he became known for his Laguna Beach modern projects. Chris Abel practiced architecture from the 1940s to around the year 2000 in South Orange County. He died in 2004 at age 80. 
The Conrad & Associates Realtors building was designed by Chris Abel. He designed many other houses and commercial buildings in San Clemente, including the former San Clemente Chamber of Commerce building at 1100 N. El Camino Real and Jack's Surfboards on Del Mar. 
Christine Lampert of Lampert Dias Architects is a member of the American Institute of Architects and is certified with the National Council of Architectural Registration Boards. She has lived in San Clemente for more than 45 years, and also resides part time in Hong Kong.