By Christine Lampert, Architect, AIA, NCARB
January 2019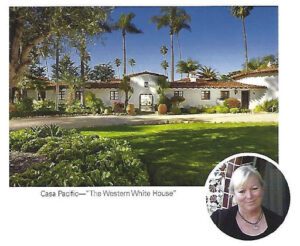 Before 1920, San Clemente didn't exist. There were grasslands with sweeping ocean views and ranchlands that extended up into the mountains as far as one could see. 
The three founders of our town-Ole Hanson, Hamilton Cotton and Thomas Murphine-envisioned this land as the" Spanish Village by the Sea" and they were able to negotiate the purchase of 2,000 acres of oceanfront land and create a master plan for the new town of San Clemente. 
Ole Hanson designed the master plan of the city and laid out the c􀀱rving street designs. A community center was built, along with horse trails and stables, the community pool, parks and the fishing pier. In 1925, home lots were sold for as little as $300 each. 
Ole's own office was at the top of Avenida Del Mar. upstairs in the building which now houses Baskin Robbins. 
All structures were required to be built in the Spanish Colonial Revival style. There may have been as many as 1,000 Spanish style buildings built, but today there are approximately only 230 Spanish Colonial Revival buildings remaining. 
The Great Depression of 1928 brought most projects to a halt and building didn't resume again until after WWII and without the requirement for Spanish design. 
Today the Spanish Colonial Revival buildings that remain are scattered throughout the city. They are referred to as 'Ole Hansons.'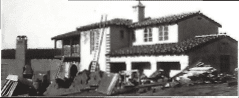 The Goldsmidt House under construction. 1928.   
One of the most prominent among them is the 'Goldsmidt House' which is located at 243 Avenida La Cuesta. Not only was this 1928 home a beautiful example of Spanish Colonial Revival architecture, it was designed by one of the most famous Los Angeles architects of the time, Paul Williams. He was the architect to many wealthy Los Angeles families. The Goldsmidts were part of that L.A., group, as well as local San Clemente landowners. The house today stands on ¾ of an acre of land and is approximately 5,000 square feet. 
Another home is 'Casa Pacifica,' which was originally owned by Hamilton Cotton on the far south end of town. This home was made famous in the 1970s when former President Richard Nixon purchased it as his 'Western White House: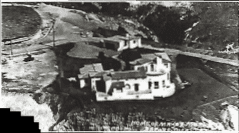 The Thomas Murphine Home on Avenida De Los Lobos Marinos 
Thomas Murphine's house met its demise three days after the Long Beach earthquake of 1933. Today there is just the old carriage house behind the gates on West Avenida de los Lobos Marinos and a cliff where the house once stood. 
Ole Hanson's house, located just above the San Clemente Pier, was purchased by the City of San Clemente and restored into Casa Romantica, a cultural center and museum. It is open to the public for a small fee or a low annual membership. His 7,200-square foot courtyard home overlooks the pier. The detailing is traditional Spanish Colonial Revival and is exquisitely detailed. 
Many "Ole Hanson" homes have been remodeled over the years but some are still in their original condition. Take a drive around town and see them for yourself!