By Christine Lampert, Architect, AIA. NCARB
June 2019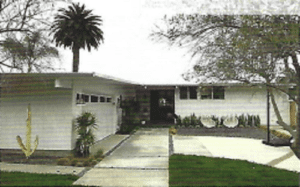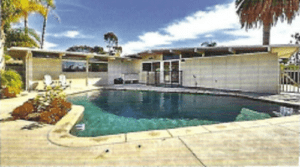 Front of Bill & Kelly Conrad's House                    Pool Deck at Conrad House 
Mid-Century Modern architecture isn't a phrase that we hear often in San Clemente, since it's a town known primarily for historic Spanish Colonial Revival architecture. It turns out that there were many Mid-Century Modern buildings built here. Starting in the 1940s and all the way through the 1960s, there were hundreds of homes and offices built in this unique contemporary style, usually with low slope roofs, lots of glass, and exposed wood beams with tongue and groove ceilings throughout the house. These houses were innovative for their time, with concrete slab floors, large sliding glass doors and large modern spaces that opened to the outdoors. 
One of the most prolific architects of that time was Chris Abel, whose buildings are still scattered throughout San Clemente. He designed over 200 homes and offices in town, including the Chamber of Commerce Building, Conrad Realty and Jack's Surf Shop. He also designed three custom tract home neighborhoods in town. Most of his San Clemente designed homes have been remodeled beyond recognition. Only a few have been restored.
Chris Abel lived in San Clemente for over 25 years and was very popular after World War 11 when many military families came back to settle. They bought empty lots and hired Chris Abel to design their homes. Chris Abel left San Clemente and moved to Laguna Beach in 1970, where he became most famous for his Laguna Beach wood clad homes that appear to be hanging from the hills with post and beam construction.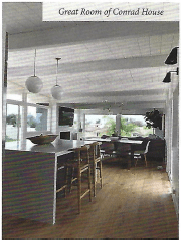 Bill and Kelly Conrad live in a Chris Abel home in Southwest San Clemente. They bought the home two years ago and have nearly finished restoring it to the original design. Chris Abel is on the permit as the "Owner-Builder" of the house and we know that this was the home where the Abel family lived for many years. The house was completed in 1957 according to city records, but it is possible that the family lived in the house a few years before it was completed. 
The house sits on a large 12,000-foot lot on a cul de sac in the Southwest. It is 2,000 square feet, with a large kitchen/great room overlooking the ocean and the swimming pool. There are two wings on each side of the great room, one is the master suite and the other has the children's bedrooms. The house measures over 80 feet from side to side and would not fit on most San Clemente lots. 
Bill and Kelly have spent time restoring the house over the past two years. They uncovered the exposed wood beam ceilings and rebuilt spaces to call back the original mid-century modern features. 
Chris Abel practiced architecture for more than 55 years and designed many homes in Laguna Beach and Southern California. He died in 2004 at the age of 80, practicing architecture to the end.