The Los Rios District
By Christine Lampert, Architect, AIA, NCARB | Paintings by David Harris Lang

Christine Lampert,
Architect, AIA, NCARB
Long before San Clemente was ever dreamed of the town of San Juan Capistrano, just about eight miles north of San Clemente ,was established in the late 1700s. The Mission San Juan Capistrano was founded in 1776. The Franciscan padres from Spain who established the mission relied upon the local people to build and to help maintain the mission, Most of them lived on Los Rios Street, not far from the mission. Originally, adobe structures were built to house the Native Americans who worked at the mission .In the 1800s, all but three were replaced with wood houses. The Los Rios District is one of the oldest neighborhoods in California; families have lived here continually since the 1700s.Los Rios Street has 40 homes with three of them original adobe construction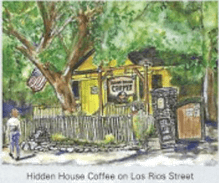 The building of the Santa Fe railroad tracks through San Juan Capistrano in1887 made lumber available by railroad, and many board and batten houses were built along Los Rios Street. The railroad depot was built in 1894 and the railroad made an effort to build & structure that represented the Mission Revival style and Spanish Colonial heritage of the town. Today, the Capistrano Depot, just across the tracks from Los Rios Street, is still a busy, functioning train station and houses 8 popular restaurant, Trevor's et the Tracks.
Today, you can stroll down Los Rios Street, just across the railroad tracks from the San Juan Capistrano Historic Train Depot, and see many of the historic 14 SOUTH OF TLE PIER  The Montañez Adobe is believed to be one of the original 40 adobes constructed by the mission Native Americans in 1794. The Montañez Adobe was the home of Polonia Montañez whose father was a mission carpenter. The house became a spiritual sanctuary when Polonia Montañez created a tiny chapel inside. She became the spiritual leader of the community as well as the town midwife. The other two remaining original adobe homes are the Rios Adobe and the Silva Adobe.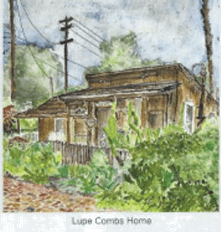 One of the most popular shops in the Los Rios District is the Tea House on Los Rios. Every weekend the Tea House front porch is crowded with mostly women in flowered dresses and straw hats having afternoon tea. The Tea House is in a traditional cottage from the 1800s. At the top of the street is the Cottage Gallery on Los Rios, which is a wood-framed cottage from the 1860s that still has its old kitchen, but is now filled with art. The 40 artists who show their work at the Cottage Gallery are all local to South Orange County, including David Harris Lang, who painted all the artwork in this article.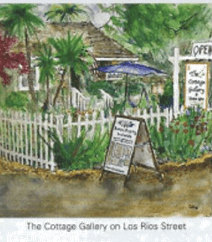 The Los Rios District is a popular destination for weekend coffee, tea, brunches and shopping. Lined with willow trees, eucalyptus and palm trees, walking down Los Rios Street is like stepping back in time to the 1800s.
Christine Lampert of Lampert Dias Architects is a member of the American Institute of Architects and is certified with the National Council of Architectural Registration Boards. She has lived in San Clemente for more than 45 years, and also resides part time in Hong Kong.