Celebrating 70 years of theater in downtown San Clemente
By Christine Lampert, Architect, AIA, NCARB | eaatelto courtesy of Christine Lampert
The Cabrillo Playhouse is celebrating 70 years of theatrical performances in 2023. The historic house on the corner of Ola Vista and Avenida Cabrillo has been the home to the Cabrillo Playhouse since 1966. The house was originally built in 1928 as a residence for the Bevins family. The actual nonprofit theater company began performing § in March 1953, but it did not have a permanent home until the middle 1960s. The company's first play took place in the historic Casino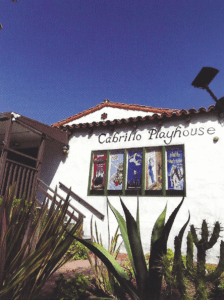 In the 1980s, the fire marshall threatened to shut down the theater because it was considered dangerous, but they were able to raise enough money to fix all of the flagged issues. Over the years, the Cabrillo Playhouse has always managed to come up with the funds to keep the building up to date. The managing team agrees that the theater is haunted. People working in the building alone have reported hearing someone walking around. The consensus is that it is not a scary
building on the north end of town with the play, Two Blind Mice. The traveling troop of actors performed in various school auditoriums, the Elks Lodge, and City Hall until the group acquired a permanent home at 202 Avenida Cabrillo in 1966.
The theater group purchased the historic Spanish Colonial house known as the Adair house, as well as the empty lot next door, and formally named the new building the Cabrillo Playhouse. They opened with the play, Bell, Book and Candle. NBC news even covered the opening day event. Over the years, the interior spaces were modified to provide 60 seats and a stage with a very small dressing area. The empty lot next to the house was converted to an outdoor patio area where guests can enjoy snacks and drinks before the show and during intermission.
The theater has always operated on donations and ticket sales. In the early years, San Clemente was a very small town with only 3,000 residents. By the time the Cabrillo Playhouse moved into the current location, they had more than 130 supporting members. Today, the Cabrillo Playhouse is supported by a much larger group.
ghost, but most likely a frustrated actor who doesn't want to leave the theater. They never feel afraid when the ghost is present, but it is still an eerie feeling.
The Cabrillo Playhouse is conveniently located just one block from downtown Avenida Del Mar so theater goers can enjoy a good meal nearby before or after the production at one of the many downtown restaurants.
In a town like San Clemente, which has such a wonderful collection of historic architecture, it is so important to continue to find ways to preserve and maintain the history, even if the use of the original building changes. The theater has done a good job of maintaining the integrity of the historic exterior of the building while providing a valuable culture experience for the community.
Christine Lampert of Lampert Dias Architects is a member of the American Institute of Architects and is certified

with the National Council of Architectural Registration Boards. She has lived in San Clemente for more than 45 years, and also resides part time in Hong Kong.
Christine Lampert, Architect, AIA, NCARB