The San Clemente

Historical Society:
Preserving our city's history
for generations to come
By Christine Lampert, Architect, AIA, NCARB
Photo Courtesy of the San Clemente Historical Society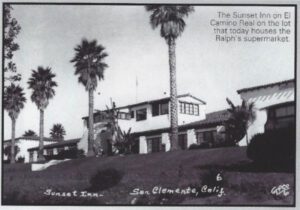 San Clemente's historic buildings were not always considered precious. At one time, San Clemente might have had as many as a thousand Spanish style ,buildings, but over time they were demolished and the city allowed new structures to replace them. Today, only about 200
historic buildings are left. Fortunately, the Historical Society was founded in 1973 and they convinced the city to save the remaining historic Spanish architecture.
Some buildings are still being used the same as they were in the 1920s, such as Fig @ 313 restaurant on El Camino Real Built in 1927, this building first housed Riley's Waffle and Coffee Shop. Also, the Lesneski Mortuary on South El Camino Real was originally the Divel Funeral Chapel. It was the sixth building in San Clemente, and Ole Hanson insisted that it be built on what at the time was the edge of town. It has remained a mortuary all these years.
In the early 1970s, Fred Divel and his mother Lois Divel started the campaign to save San Clemente's historic architecture after several beautiful homes on the bluffs were demolished 10 build massive condominium projects: They helped form the San Clemente Historical Society, which then pushed the city to San Clemente Historical Society, which then pushed the city to designate buildings historic and require that they be preserved in some manner
Unfortunately, some incredible buildings were destroyed before the city began saving the historic structures.
The San Clemente Historical Society is hosting its 50th anniversary party at the Casa Romantica Cultural Center and Gardens on Sunday, March 19. All residents of San Clemente are invited to buy tickets to help with fundraising for the historical society and to celebrate our town. Tickets are available through the Historical Society website at sanclementehistoricalsociety.org
The most famous of these homes is the 7,200-square-foot Casa Romantica, which was built by Ole Hanson, one of the founders of San Clemente. If is now a cultural center owned by the city. The Casa Romantica has many traditional features, including a "courting wall," 'which was a common Spanish Colonial detail
The front wall withinithe enclosed courtyard has small holes that allow for two people. to'see each other and converse between the outside of the house and the courtyard. Many years ago, it was considered the best way to allow a daughter to visit with a young man. Another feature of this house are the arched French doors to the back terrace that disappear into the wall
Christine Lampert of Lampert Dias Architects is a member of the
American Institute of Architects and (s certified with the National Council of Architectural Registration Boards. She has lived in San Clemente for more than 45 years, and also resides part time in Hong Kong.
---
Christine Lampert, Architect, AIA, NCARB,
Owning a historic San Clemente home has become a badge of honor of many San Clemente locals, and many owners have been able to restore their home enough to apply for the Mills Act, which is a California ecanomic incentive program that provides a substantial tax break for homeowners who maintain the historic features of their historic home
Many of San Clemente's historic buildings have found new uses Some historic homes are now commercial buildings, including The Cabrillo Playhouse, The Abode on Avenida Del Mar and Casa Verde on Avenida Granada